John Lucas, Coat Of Arms
(awarded 27 October 2009)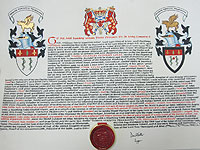 John Lucas settled in Wayne County, NC by 1779 and received a land grant. He has been granted a Coat of Arms and a Letter Patent by William David Hamilton Sellar, Lord Lyon of Scotland in the name of Her Majesty Queen Elizabeth II.
The Coat of Arms and Letter Patent descends to COL Charles C. Lucas, Jr. MD. The date of the award is 27 October 2009.
All Lucas members who can prove their descent from John Lucas can apply for their own Coat of Arms based upon the Coat of Arms of John Lucas.
The picture of the Coat of Arms shows the Arms awarded to John Lucas in the upper left corner. The Coat of Arms awarded to COL Charles C. Lucas MD is found in the upper right corner.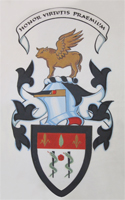 The Coat of Arms awarded to the petitioner COL Charles C. Lucas MD is described as:
Videlicet: Argent, two Aesculapian rods sable each environed of a serpent Vert on a chief Gules a tobacco leaf Proper between two ears of maize slipped Or a rose Gules at the honour point all within a bordure sable. Above the shield is placed a helm befitting his degree with a Mantling Sable doubled Argent and on a wreath of Liveries is set for Crest a winged bull statant Or and in an Escrol over the same this Motto "
Honor Virtutis Praemium
".
"
IN TESTIMONY WHEREOF We have subscribed these Presents and the Seal of Our Office is affixed hereto at Edinburgh this 27th day of October in the 58th Year of the Reign of Our Sovereign Lady Elizabeth the Second by the Grace of God of the United Kingdom of Great Britain, and Northern Ireland and of her other Realms and Territories, Queen, Head of the Commonwealth, Defender of Faith, and in the Year of Our Lord Two Thousand and Nine.
"
- David Sellar, Lyon